It was great to be commissioned by Barques to shoot a collection of images for Samsung's range of professional microwave but the caveat came that we would be working through the night!
I packed the car to its limit's for this location photography assignment and hit the road, as unsure of what I would need, better to take too much.
The location was at Samsung's amazing Headquarters in Chertsey Surrey very impressive setup. We were working in the staff restaurant which had a Sandwich bar, salad bar, various hot food option, Hot potatoes, a noodle bar all freshly cooked, basically, everything you could want, all at a subsidised price, they certainly look after their staff.
We arrived about Lunchtime to take advantage of a good look around and to sample some of the fantastic food on offer, We weren't due to start until about 5.00 but managed to get the first shot underway by 3.00, as it was Friday it soon cleared.
Technically challenging mostly due to the small food preparation kitchen's we were working in and the nature of the Microwave reflecting everything and every light.
I over came most the problems by using reflected lights hitting a large clean reflector which managed to keep the reflections clean, that combine with double exposure shots at the end of just the Microwave's which Scott, director at Barques and art director and master retoucher combined into the final images.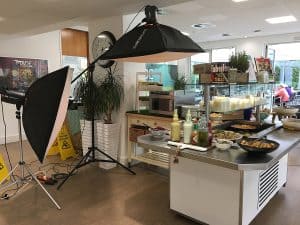 Finally, credit must go out to the client and staff who ended up as our models both fitted the brief perfectly, all went better than expected, Fun and rewarding shoot, with it all done and cleared away by 1.00 and back onto the M40 and home.