This great opportunity has been bubbling about for some months and could be the start of one of my biggest ever commissions. The Industrial Photography at Liberty steel is very exciting news indeed. A real bonus in this time of Covid.
The client GFG Alliance is a collection of global businesses and investments. There three main areas being, Liberty Steel Group, Alvance Aluminium Group, and SIMEC Energy, with multiple plants throughout the world.
Steel Foundry, Liberty Steel Newport
This first shoot at Liberty Steel Newport was approached as a combination of Recce, test, and style guide. To see what actually was possible within this Cathedral of noise, steam, and heat-producing Hot Rolled steel coil.
Although I have been to many factories producing all manner of goods this was new to me. The enormity and power to take an ingot/ or slab of metal, heat it to unbelievable temperatures. Flatten and roll it like it was Sushi was just incredible, I was in awe
The Harshest Conditions ever,
This Industrial Photography at Liberty Steel was perhaps the hardest working conditions I have potentially have ever had. Firstly there is health and safety, which in a place like this the danger is very real.
It was made very clear to us the necessity to follow strictly all protocols and rules for our own safety.
We were all fitted out in protective trousers and jackets that don't catch fire if a spark lands on you. Hard Hats, Glasses, and ear protectors add the incredible noise of the mill, it all made communicating impossible.
I tried directing the willing subjects, add socially distancing, and a face mask. My miming and hand gesture skills came into their own.
Mood Boards and stylized brief
I was working to a beautiful mood board of cinematic Teale's and yellow. It was going to be my responsibility to interpret the style in the depths of this steel foundry.
As is always the photographer,s dilemma. Do I light or not, on the recce day I had to use ISO of up 2000-4000, which is well above my comfort zone.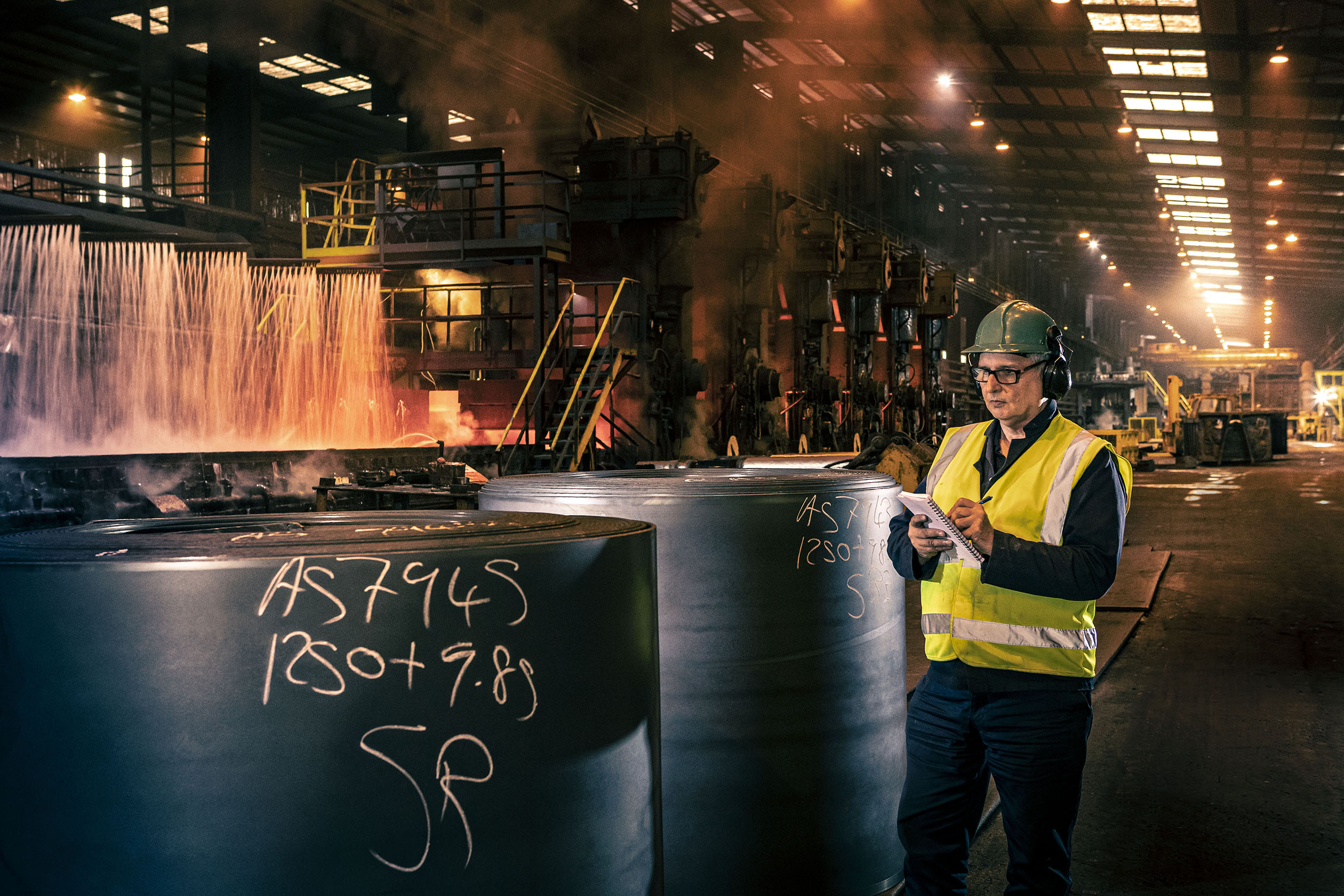 I decided on a combination of approaches to try to craft some shots with the Profotos. But then to cover off some more reportage, which always seems to work equally as well.
What a couple of days, well briefed by client Matt, and looked after by all the staff, it was a ridiculously hard shoot but massively rewarding,