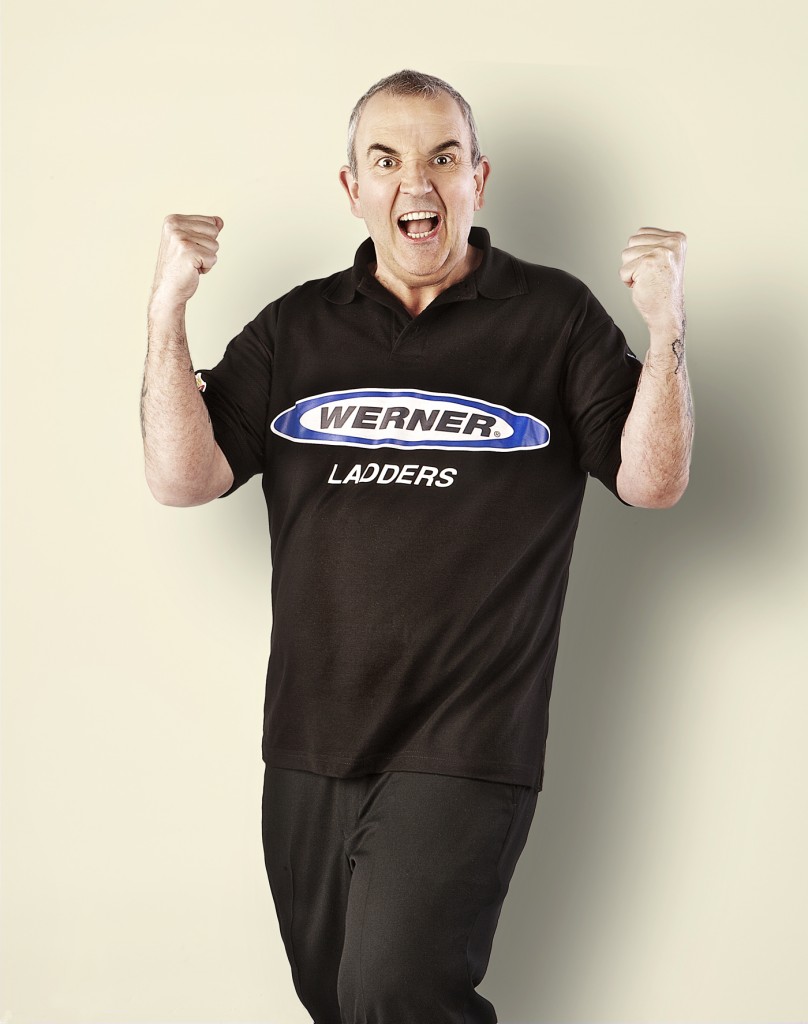 Phil 'the power" Taylor Celebrating, for Werner ladders,
I am so pleased with the results from this shoot, absolutely no time, it was just get in, and get out.
But even if I say myself they're not bad for 15 mins' work. But Phil helped,
I do pride myself on relaxing my sitters I aim to get a smile for most of my portrait work, it always is my preferred look.
Right, you have 15 Minutes,
I was called upon by Ed Duffield and Rave communication to do some BTS shots and a couple of portraits of Phil Taylor the world champion darts player.
Normally this would be great and something I revel in, but he had just finished an all-day video shoot, so I was given the last 15 minutes of the day with him.
Luckily I had my trusty assistant Paul, and we managed to get a basic light set up before the video wrapped.
Putting up some Elinchrom softboxes and a couple of long strip softboxes left and right which gave a relatively flat light.
I couldn't go for anything with too much contrast as I was unsure which direction I was going to shoot, I hadn't any time for adjustment.
Capture and viewing would have to be onto the back of the camera no time to tether up.
What a fantastic gent !
I could see he was shattered and had enough. He gave me as much of his time as he could but most of all his patience.
Phil "the power" Taylor celebrating could of been for the end of the shoot ?
Phil "the Power" Taylor for JWI-global or that was Rave Communications,
Shot on the back of a video shoot at Top banana studios for Werner, with production by Ed Duffield, director, and Darryl Canham as creative lead.
Very nice guy and extremely patient after a hard day, have a look at this youtube compilation to show how good he really was